Fault Passage Indicator
General Description
Fault Passage Indicators are devices which are triggered by the magnetic field of a current conductor in the event of a short-circuit resulting in a tripping of Fault Passage Indicator.
Fault Passage Indicators are mainly used for more efficient and quicker fault location in medium-voltage distribution networks. Bright LEDs are tripped upon reaching or exceeding the rated trip current of the Fault Passage Indicator. Fault Passage Indicators have Short Circuit sensors and earth fault sensors.
Fault Passage Indicators can be used either in radial or open ring operated networks.
Fault Passage Indicators also provides contacts for remote communication. Fault Passage Indicator provides separate contacts for short circuit and earth faults which can be used for SCADA.
The fault is located between the last tripped indicator and the first non-tripped indicator (refer to the circuit diagram below).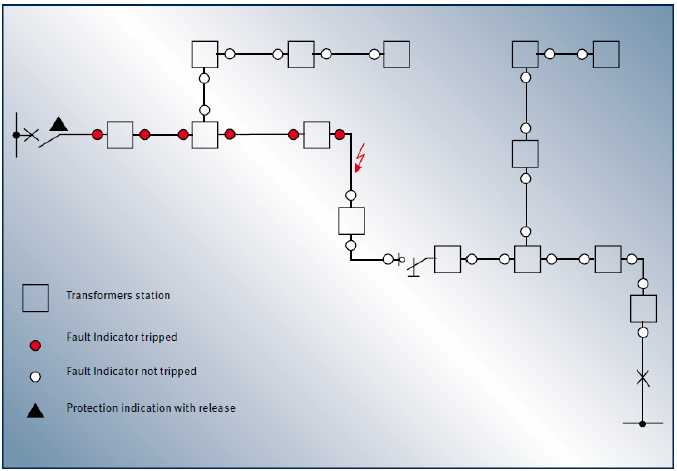 Salient Features
Suitable for Radial and Open Ring Networks

Site Configurable Trip Current Setting

Site Configurable Trip Delays

Bright Red LEDs for Longer visibility

Remote Indication suitable for SCADA

Remote Test/Reset Facility

Self Powered by Li Battery

Type Tested as per

IEEE 495-2007

Sensor Protection Type IP65- Water Proof

Indicator Unit protection Type IP65

Suitable for Outdoor Application

FPI Health Monitoring & Health Indication on SCADA

FPI Reset on recovering System Voltage or Current

Fit & Forget Model – FPI with rechargeable Battery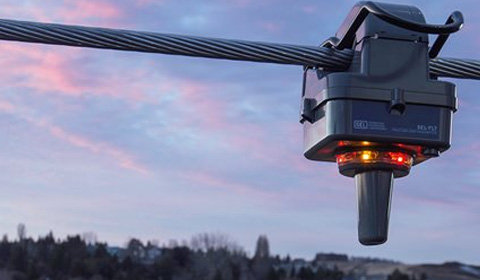 Specifications
Rated Voltage

11kV /22kV /33kV

Operating Frequency

50Hz/ 60Hz

Short Circuit Trip Current (Site Configurable)

250A/375A/500A/625A*1

Earth Fault Trip Current (Site Configurable)

40A/60A/80A/100A*1

Indication Unit

Each Phase

Earth fault

Low Battery

Manual Resetting Methods

1) By Pressing Button on Indication Unit 2) By Swiping Magnet
Auto Resetting Options 1) Self Reset By Time
1/2/4/8 Hr (Site Configurable) *1
2) Command From SCADA 3) On Recovery of Current
4) On recovery of System Voltage
(Continuous Supply can be provided)
Tripping Delays

(Site Configurable)

2 Cycles (40mSec)

10 Cycles (200mSec)

17 Cycles (340mSec)

25 Cycles (500mSec)

(Site Configurable) *1
Internal Power Supply Options 1) Li Battery (Non-Rechargeable)
Available with Power Saving Mode 2) Rechargeable Battery
External Power Supply

Auxiliary 24VDC

Health Monitoring System

SCADA Communicable

Contacts For SCADA

One For Earth Fault

One For Phase Fault

One for Health Monitoring

Sensors (CT)

Removable for Earth as well as Short Circuit Sensor

With Screened Wire

(Length can be changed as per Customer Requirement)

Protection Class

IP65

Type Testing

IEEE 495-2007

Dimension: Indication Unit

115 mm x 63mm x 70 mm (WxHxD)

Operating Temperature

-20?C to +70 ?C